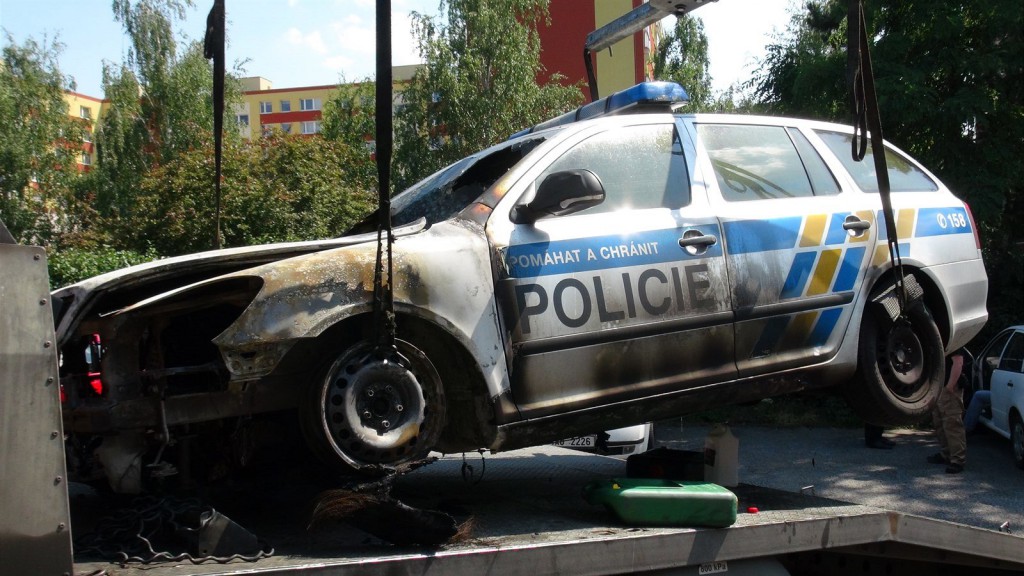 W środę, 1 lipca 2015 podpaliliśmy w Pradze samochód policyjny. Stało się to na obrzeżach parku w pobliżu stacji metra Srašnická. Komórka należąca do Sieci Komórek Rewolucyjnych w ramach trwającej walki zaatakowała samochód policyjny, przesyłając w ten sposób płomienne pozdrowienia Aleszowi Kocim. Alesz wpadł w łapy państwa z powodu swoich anarchistycznych przekonań na temat walki klasowej. 28 kwietnia 2015 zatrzymali go podczas "Operacji Fenix" i oskarżyli o nielegalne posiadanie broni. Przebywa teraz w areszcie jako więzień państwa.
Państwo ze swoimi instytucjami dysponuje ogromnym arsenałem broni i stworzyło monopol na jej używanie. Nieustannie posługuje się nim dla utrzymania kapitalistycznego konstruktu w ruchu – sieci stosunków wyzysku i ucisku. Anarchiści odrzucają państwowy monopol na broń. Anarchiści praxis przeciwstawiają się wartościom, które chronią i reprodukują państwową przemoc. Państwowa przemoc przeciw anarchistom rodzi przemoc buntowników.
Alesz Kocim jest anarchistą, który uzbrajając się złamał państwowy monopol na używanie broni. SRB popiera taką postawę. Dopóki Alesz znajduje się w rękach wroga ogranicza to jego możliwości udziału w dalszej walce, nie zamierzamy jednak godzić się z tym faktem. Rewolucyjna przemoc przeciwko przemocy stosowanej przez państwo chroniące nędzę kapitalizmu. Jak dotąd podpalaliśmy samochody jedynie przy pomocy ognia. Jednak następnym razem będzie inaczej.
Komórka Ognistych Pozdrowień – Sieć komórek Rewolucyjnych (SRB)