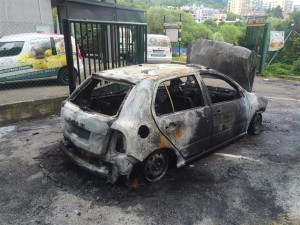 Walka Sieci Komórek Rewolucyjnych (SRB) przeciwko praskiej restauracji Rizkarna trwała ponad rok. Zaczęło się od tego, że jej właściciel Vladimir Krulec nie wypłacił pensji swoim pracownikom. Teraz ostatecznie przyznał się do porażki. Pod naciskiem SRB wypłacił zaległe pensje pewnym osobom, które wciąż tam pracują.
Od marca 2015 r. SRB zorganizowały szereg akcji sabotażowych przeciw tej restauracji. Pięć razy podpaliliśmy jej samochody. Kilkakrotnie zakłóciliśmy tam pracę wrzucając tam kwas masłowy. Miało także miejsce kilkanaście przymusowych ewakuacji z powodu których restauracja była nieczynna. Działania sabotażowe przyniosły temu biznesowi znaczne straty. Groźba kolejnych zniszczeń zmusiła Kruleca do przyznania się do porażki. Zrobił to co chciały SRB: wypłacił zaległe pensje.

Zwycięstwo SRB jest wynikiem naszej konsekwencji. Zdefiniowaliśmy cel walki i za pośrednictwem akcji bezpośrednich zmusiliśmy Kruleca do jego realizacji. Nie zostawiliśmy miejsca na ustępstwa. Nie było żadnej mediacji poprzez biurokrację czy polityków. Żadnej negocjacji czy ustępstw na rzecz jakiegoś kompromisu. Polecamy to rozwiązanie innym. Preferujemy logikę permanentnego konfliktu, która sprawia, że nasi wrogowie robią to co chcemy.
Zanim SRB zaczęła działać były inne akcje bezpośrednie. Protesty, happeningi, pikiety i okupacje restauracji organizowane przez inne grupy, które w pewnych warunkach mogłyby przynieść sukces. Tym razem jednak nie dały oczekiwanego efektu i właśnie dlatego do akcji przystąpiła SRB. Chodziło nam o zwiększenie nacisku na Kruleca. Autonomiczne akcje i zastosowane w tym przypadku metody zostały wymuszone przez okoliczności, nie stanowią jednak uniwersalnego modelu działania pasującego do każdej sytuacji.
W przypadku niektórych innych walk wystarczą pikiety i nie ma potrzeby podpalania aut. Gdy jednak kontrolowane protesty nie działają, sabotaż może być dobrym sposobem pokazującym jak odnosić zwycięstwa. Rizkarna jest tego dobrym przykładem. Inspirujmy się tym przykładem, a zdobyte doświadczenie wykorzystujmy do naszego dalszego rozwoju. Analizujmy je i wykorzystujmy w przyszłych walkach.
Sieć Komórek Rewolucyjnych (SRB) – 23.5.2016